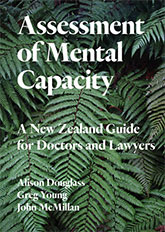 The ability to make decisions and take actions that influence our life is critically important, and ranges from simple everyday choices about what to eat or wear, to far-reaching decisions about health care and personal or financial matters.
When our ability to make our own decisions is impaired due to dementia, learning or intellectual disability, mental illness, substance abuse or brain injury, there is a need for clear assessment processes to decide whether someone has the capacity to make their own decisions, who should make decisions on their behalf, and on what basis such decisions should be made.
Assessment of Mental Capacity: A New Zealand Guide for Doctors and Lawyers serves the needs of doctors, lawyers, health practitioners, families and whānau. It is written by experts across a range of disciplines including law, medicine and ethics. This book is now available in hard copy and in e-book formats.
This report is the result of a legal research project undertaken by the writer as the 2014 recipient of the New Zealand Law Foundation International Research Fellowship. The project has involved analysis of relevant New Zealand law plus analysis of the legislative framework provided by the Mental Capacity Act 2005 (for England and Wales) and its associated Code of Practice.
Key informants for this research include leading experts, academics and members of the judiciary in the United Kingdom, as well as a wide range of people working in the health and disability sector in New Zealand. A survey of doctors' educational needs was undertaken to inform the toolkit on assessing capacity.

MENTAL CAPACITY
Updating New Zealand's Law and Practice

1. Executive Summary
2. Capacity Toolkit
3. Full Report
4. Download Individual Chapters